Ravior: Crafted to Evoke
By Ravi Jetshan
Ravi's first foray into the world and art of jewellery started at the age of four. Born into a family of jewellers of nine generations; he has been creating jewellery since he was 12. He has had the opportunity to learn from the best – Daniel Jacobs, Reiko Ichimura and Shane Hartegan. Ravi has won numerous awards – including the National Jewellery Collection Design Contest in 2007. His ongoing passion makes him a lifetime student.
Established in Mauritius in 1982, the Ravior brand has since become a preferred name in the field of Jewellery, locally and around the world. Creativity, Innovation and Precision are the ideals preached by their designers, thus yielding supreme quality of Jewellery and providing an uncommon experience for its customers. The name Ravior is an elision of 'Ravi' meaning 'Sun' in Sanskrit and 'Or' meaning gold/golden in French, thus forming 'Ravior' (Golden Sun). As the name suggests, Ravior brings us the dawn of a golden era in the field of jewellery. It vividly illustrates the brand's ongoing quest for Innovation, Beauty and perfection.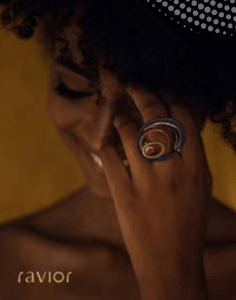 But what is the purpose of existence for Ravior you may wonder? For nearly four decades, Ravior has set new standards in contemporary designs. With perseverance and consistently evolving not only in the trade of jewellery but also expanding and transcending in craftsmanship and for the purpose of serving their clients and partners with the finest of Jewellery Art and Craft. This is not a mere transaction, but rather a value added experience that keeps the customers always coming back for more. At Ravior, it doesn't matter whether you are young by age or young at heart, there is something for everyone.
The Jetshan family were the owners of the company, whose lone pursuit of building Ravior in a small workshop, was eventually graced with a team of 2 people along with Souresh Jetshan's son, Ravi Jetshan – a linguist and a jewellery designer who has clearly imbibed a unique artistic persona in the house of Ravior, currently acting as the Creative Director. Another new venture started with the arrival of Ravi Jetshan's sister in 2004, Raksha, who joined the company to boost the Sales and Marketing side of the business.
The Brand that has been built on some strong foundations, puts its priorities straight by serving their clients first. A family of passionate jewellers, passed on since nine generations that makes each and every collection reach new heights of inspiration as well as oneness with the wearer. As a Family, Ravior provides its fidelity card – Carte FAMI and is proud to have employed authentic local team thus making the company to be 100% Mauritian. This enables the brand to create more jobs especially for the local citizens of the Island. After all, it is not just glitter and gold that Ravior amends.
Apart from exclusive and intricate designs, Ravior also provides services such as jewellery appraisal, up cycling and restoring of objects, jewellery cleaning, laser and mechanical engraving, trophies, corporate gifts/items and sculpture and even more. How do such traditional skills adapt to the changing times? What started as a workshop with only 2 people, has grown into a team of 12 people ready to deliver not only traditional handcrafted design, but also provides edgy and bold 3D Sculpted, Printed and Hand Finished Jewellery that is made to blow everyone's mind.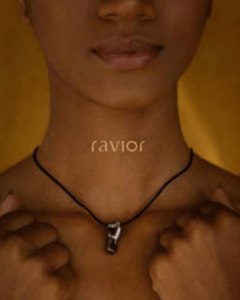 Ravi Jetshan, in his early years, spent hours in his Fathers' vicinity by attentively diving into the artistic journey. This eventually motivated him to draw and craft his First Jewel at the mere age of 12! His continuous curiosity and inquisitiveness allowed him to be inspired by the traditions of jewellery making. As creativity knows no bounds along with his quest for new jewellery level, Ravi sets sail to learn the savoir-faire of Jewellery craft in France and returned to Mauritius at the age of 18. Having been recognised and awarded for excellent craftsmanship, today Ravior stands as a mark of trust. As ever expanding beyond horizons, Ravior's collections have been exhibited worldwide, namely in Copenhagen, Las Vegas and Place Vendôme (Paris).
One of Ravi Jetshan's latest 3D printed collections, inspired from nature's very own Corals, is named 'KORAY' (Ko–rai:Corals in Creole). The 'KORAY' collection was his vision of combining handcrafting with technology. Other 3D printed collections are the 'REV' pendant, inspired from the famous sentence "We Shall Overcome" and the new fully customisable sterling silver Signet ring. These jewellery designs are also available on order for 18K Gold with possibilities of combining with an array of magnificent gems.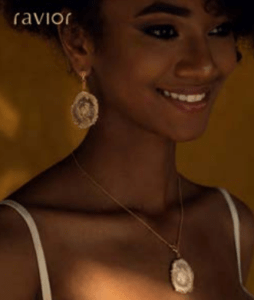 Another leap forward for Ravior was the acquisition of a state of art, Italian made, laser welder capable of working with all metals used for jewellery. Equipped with a high-precision viewing system, the workshop is now able to deliver tasks much faster and at higher quality. The goal is, yet again, to provide people with finest pieces of jewellery.
One more breakthrough for the business was to go worldwide with a virtual showcase. This is where the determination of Ravi Jetshan led towards putting forward an interactiveand user-friendly online store – www.ravior.com. This digitalisation did not stop there as the company set eyes towards expanding its presence via social media by creating Ravior's Facebook page (@RaviorJewelleryOfficial) and Instagram (@raviorjewellery) as well as YouTube channel (ravior) and LinkedIn page (Ravior Co Ltd).
Their unique creations are enhanced each season with patented techniques that the brand has developed. You will always reminisce over Ravior no matter where you go. No wonder they say, it is Crafted to Evoke.