Recreating the Lost World of the Dodo via Augmented Reality
By Chad Bell
Chad Bell celebrates the design process and strongly believes in the value of design as a social, cultural and economic force. He serves as the Creative Director and Motion Designer for Aestetika's highest profile clients, generating inspired experiences and insightful problem solving. Over the years, he has earned a reputation for creativity, innovation and success whilst amassing a range of industry related awards for broadcast and entertainment marketing design.
This awe-inspiring journey, in having designed the bespoke Dodo Expedition AR application for the Mauritius Natural History Museum, is with great thanks to the Mauritius Museums Council and Mr. V. Rupear, Director of the Natural History Museum. It is truly a great honour to have fulfilled their extraordinary vision.
As any curator will tell you, storytelling is at the centre of a museum experience. Storytelling is also at the centre of any great brand experience. Even more so for a natural history museum tasked to help improve our understanding of the natural world by giving us an insight into our understanding of biodiversity, evolution, the environmental impact of climate change and of the different animals that used to exist or are still alive today.
Raphus cucullatus, the Dodo, is without doubt the most famous species to have gone extinct in human history. But despite its fame, very little was known about its anatomy and biology, until very recently.
The Power of Storytelling as a Marketing Tool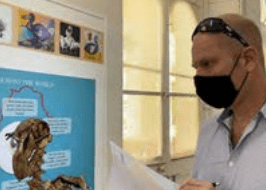 The key to tell powerful brand stories is developing an emotional resonance with your audience. This is difficult to achieve in a museum because as creative technologies have become embedded in everyday life, static displays, replicas, mounted animals, and fossils, even with their sounds effects and supporting media, no longer interest digital savvy audiences that are used to and are now looking for immersive digital experiences to enhance their visits.
2020 signalled the beginning of a new era for museums and galleries. It triggered a digital turning point that helped produce a means to stay 'open' regardless of the many disruptions an ever-present COVID-19 causes.
This digital turning point prompted the Mauritius Museums Council to rethink their strategies and accelerate their own digital transformation to help address questions of relevance and find ways forward that not only rely on virtual rather than physical interactions to attract tourist who no longer can visit the island, but also convey stories of our natural world in innovative and digitally immersive ways. The objective, of course, is to go further than just presenting information. It is about motivating and inspiring its visitors to think about and leave its exhibitions, albeit virtually, a little bit changed.
Accelerating Digital Transformation with AR
Augmented Reality is now regarded as one of the world's best-emerging technologies that is actively reshaping the museum landscape as it adds an additional dimension to displays by bringing objects or scenes to life without having to alter the physical exhibition settings. It is an important step into the future for all forms of education and skills development, utilising emerging technologies that can take advantage of Mauritius' 5G mobile network.
Recreating the Lost World of the Dodo at the Natural History Museums in Port Louis via Augmented and Virtual Reality is not just about superimposing images, text or sound on top of what a person can already see within the museum's displays. It presents real and exciting product-development opportunities in terms of natural history education, tourism marketing and customer brand experiences that can drive all-new, post-COVID-19, revenue streams for the Mauritius Museums Council.
Making the Dodo as Loved as Dinosaurs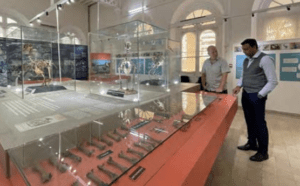 Inspired by an 1832 description of a swamp that said that it was so full of extinct animal bones that you only had to stick your hand in the water to retrieve them, a group of international researchers, including Dr Julien P. Hume, a paleontologist at the Natural History Museum in London went in search of it. Remarkably the team succeeded and in 2015 the swamp was re-discovered near Mare la Chaux in Mauritius.
Dr Hume stated that, "This is one of the most exciting fossil excavations I have worked on. We are literally peeling back the history of Mauritius layer by layer. The sheer volume of remains, including extinct giant tortoises, giant skinks and Dodos, a culturally significant bird to Mauritius and global icon of extinction, we have found has been incredible."
According to Dr. Hume this discovery of fossil plant seeds and pollen would allow the team to reconstruct what the island looked like before humans arrived and would also help them to understand the impact of climate change over the last 1,200 years. Scientists examining the structure of the bird's bones have also found new information about how quickly Dodos grew, when they laid eggs and when they molted.
"The Augmented Reality campaign was designed to bring the exciting discoveries made by several scientists to the fore in fun and exciting virtual ways. Hence the campaign name, Dodo Expedition. The word Dodo is synonymous with extinct animals such as the woolly mammoths and dinosaurs. However, it is not talked about with the same enthusiasm or excitement. Now, the Dodo Expedition campaign is about to change all that, so that everyone from across the globe can learn all-new scientific facts about the Dodo, lost to us for so many years. Importantly, each character within this Dodo family will help us to better understand the ecology of Mauritius' past and so better help us protect its future." Mr. V. Rupear, Director of the Natural History Museum, Port Louis.
Science Reveals What the Dodo Really Looked Like
The 3D scans of the bones conducted by Dr. Leon Claessens during his tenure at the College of the Holy Cross and studies by paleontologist Dr P. Julian Hume tell us that the way the Dodo's thighs joined its pelvis means that in life it stood much more upright than we thought. We thus based the animated 3D augmented reality models on this finding.
The only closest living relatives of the Dodo were thought to be the Samoan Tooth-billed Pigeon and the Victoria Crowned Pigeons from New Guinea. However, Australian and New Zealand researchers have discovered that the Southeast Asian Nicobar pigeon is in fact the closest living relative of the extinct Dodo, which is why you can hear their cries during the AR experience.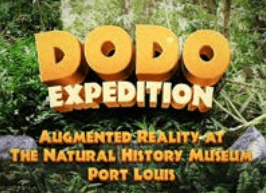 The DODO EXPEDITION AR app is all about harnessing the power of Augmented Reality to transport users into the lost world of the extinct Dodo. The Dodo is one of the most iconic symbols for how quickly and profoundly humans can impact an environment and drive a species to extinction. More importantly, it is estimated that 25% of all bird species will be extinct in the wild in the next 100 years. We need to act fast, and both Augmented Reality and Virtual Reality creates opportunities for museums such as ours to enhance environmental teaching and enable active learning." Mr.V. Rupear, Director of the Natural History Museum, Port Louis.
Downloading The Free DODO EXPEDITION AR App
If you are planning to visit the Natural History Museum in Port Louis, take advantage of this FREE Augmented Reality App to enhance your visitor experience.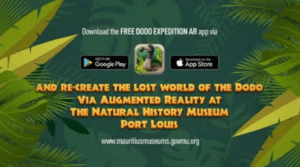 The Dodo Expedition AR app can be downloaded via Google Play and the App Store prior to visiting the museum. Plus, the app allows visitors to take photos with the Dodo family which can be instantly shared via social media with family and friends across the globe.
500 Years of the Natural History of Mauritius
The Natural History Museum in Port Louis, through its four permanent galleries, presents the past 500 years of the natural history of Mauritius and is located on the ground floor of the Mauritius Institute Building, right in front of the Jardin de la Compagnie, in the heart of the City of Port Louis.
The most complete Dodo specimen is the centerpiece of the museum and is displayed in the fourth gallery. The skeleton of the Dodo, collected by E. Thirioux, a barber, in 1900, is unique in the sense that all the bones come from one individual bird. A skeleton of the Rodrigues Solitaire, discovered in
Caverne Patate in 1900, is also exhibited in this gallery. The museum is open from Monday to Saturday with the weekly visiting hours from 09:00-16:00 and 09:00–12:00 on Saturday.
Looking Ahead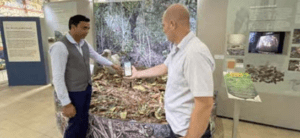 Together with our specialist augmented reality software partners, Aestetika Studio is looking forward to building a range of Augmented Reality experiences in Mauritius that are intuitive, interactive, and engaging with real-world value. By leveraging emerging technologies such as AI, AR, VR and Gamification, we as designers, artists, and animators together with scientists and educators have fresh and exciting opportunities ahead in designing immersive experiences that depict Mauritius' historical significance into products that can be exported world-wide.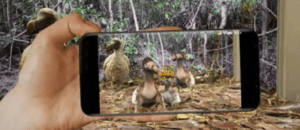 Aestetika Studio, together with all its collaborative partners firmly believes that it has a responsibility to help communities adapt to this new world that is in the making, ensuring that citizens benefit, rather than get left behind. Since digital technology is becoming increasingly intertwined with everyday life, especially in education, financial and health management, our Dodo Expedition AR app aims to do exactly that.